"When children pretend, they're using their imaginations to move beyond the bounds of reality. A stick can be a magic wand. A sock can be a puppet. A small child can be a superhero" -Fred Rogers
Drama gives children the opportunity to explore and the freedom to imagine. Through drama, children express themselves using different facial expressions, voices and tones, and body language. Drama empowers children to communicate confidently and it is also an effective way of learning languages.
At Angsana Education, our teachers incorporate drama and role play elements in their classes. We strongly believe that creative thinking and the ability to confidently communicate ideas, and focus on solutions are the skills children need for the future. These are the few top quality skills employers look for in the success of their organisations today.
To enhance the quality of our programs and to support our teachers' professional development, we provide comprehensive training workshops led by our international resident educator Hui-Shan Yong to help our teachers continue to grow and develop their craft.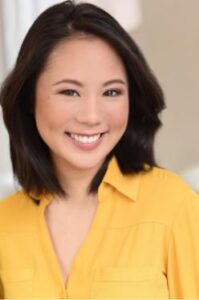 Hui-Shan is a Malaysian-born actress based in New York. She trained at the Atlantic Theater Company Conservatory Program. Let's get to know Hui-Shan and her thoughts on drama and its importance to children's development.
1. Tell us about yourself.
I grew up in Kuala Lumpur, Malaysia. I moved to the US for college. After graduation, I enrolled in the Atlantic Theater Company's Acting Conservatory Program and I've been an actor ever since.
2. How many languages do you speak?
I speak three languages – English, Mandarin Chinese and Malay. After living overseas for so long, I've also learned to appreciate my Malaysian dialect – Manglish. So I guess I speak 3.5 languages?
3. Why is it important to incorporate drama when learning a language?
Drama enhances one's vocabulary and comprehension through role playing and theatre games. For example, instead of memorizing and sitting for a test, a teacher can create an everyday environment eg: a supermarket and provide a situation eg: a store employee helping a shopper with his/her needs. The children will then have to role play and improvise. Not only will the children have an increased knowledge of the language, they will also understand the words and vocabulary in context.
4. Why acting?
When I was 8, my aunt brought me to watch my first live theatre show. It was a children's production and the scene I remember was of a boy telling us a story from an enormous book. He maintained eye contact with the audience as he flipped the pages. The audience hung on his every word. When he finished his story, I felt the entire audience shift, as they processed the journey they just experienced. There were a lot of "wow"s and murmurs of amazement. At that moment, I found my calling. You know that voice or thought or nagging feeling you get every once in a while? I got that. I found my passion. I wanted to live in different worlds, play different characters, and bring people on an adventure.
5. What do you love most about acting?
Empathy. I can talk extensively about this. But in short, when I get a role, I research and delve into the psychology of my character and the environment she's in. I have to take my character's side and be her biggest champion, whether I personally agree with her actions or not. Developing empathy has helped me with my personal relationships, friendships and teaching.
6. Tell us about your experience working with children.
I love introducing ensemble building games because it is very inspiring to watch children work together. Sometimes, I give them an activity and I tell them that they have to work through it without speaking. I enjoy this a lot too because it becomes an opportunity for those who aren't as comfortable speaking in public to take the lead. Sometimes, I make mistakes on purpose and they band together to "correct my mistakes". When they've created an ensemble, they become very supportive of each other. When they know that they have each other's backs, their performance on stage is a delight to watch.
7. What was your takeaway from this experience?
I now use these games for my adult classes too! I also think I've become a better listener when working with others (I'm still learning to get better at it). Children are so inspiring. Sometimes when I overthink a situation, I would ask myself, "how would a child think?" and most of the time, I find my answer! "Simplicity is greatness and all the great people are simple" – Ralph Waldo Emerson.
8. In your opinion, why is drama so important to children's development?
It teaches children to listen, communicate and be part of a community at a young age. It also provides a safe space for them to be someone else but themselves. They're encouraged to express their feelings and be a little silly (in my classes I let them get crazy because I get crazy too). They also learn to read and analyze scripts, they learn different styles of writing and a variety of characters and emotions. In short, drama and theatre create a well-rounded human being.
9. How does drama help build a child's confidence?
Drama breaks the fear of public speaking. It also gives them a sense of gratification and motivates them to keep going. Working together as an ensemble also builds confidence. It helps them with their social life, and it helps them build friendships. Drama also builds creativity. When children let their imagination fly, they learn more about themselves and naturally, they learn to believe in themselves.
10. You are currently doing regular training with the teachers at Angsana Education. What are your goals for them and what would you like to see them achieve?
The teachers at Angsana Education have their own backgrounds in teaching, while I bring my many years of acting experience on the New York stage. I look at my training sessions as a collaboration of our knowledge and I share everything I've gleaned over the years.
This year however, the pandemic has thrown us all into a world of unfamiliar territory. We've been working on effective ways to tell stories through technology. The teachers are getting more familiar with telling their stories within the Zoom box and we've begun looking at the box as a guide instead of a limitation. I'm hoping that this experience will expand their already creative minds and help them adapt in unpredictable situations.
11. 3 easy tips/ activities parents can do at home with their children to instill an interest in drama?
a. Have a dance party – children love it when their parents let loose and go a little cray cray. It is an opportunity for them to have fun with you and watch you be silly. It's a great way to bond too! Also, after a long day at work, wouldn't it be nice to just dance all the stress away?
b. Every child has an active imagination. When your child takes an everyday thing and makes it into a character or puppet, play along … and converse with Mr. Spoon.
c. When reading to your child, especially stories with dialogues, have them choose a character(s) they want to read while you read the other. This way you can both play with voices. This is a fun way to read a book together!
---
Reference
We also found this interesting article on drama and theatre for children: https://www.nymetroparents.com/article/why-drama-and-theater-are-important-to-your-childs-development
Read on to find out more on why drama and theatre are important elements for your child's development.