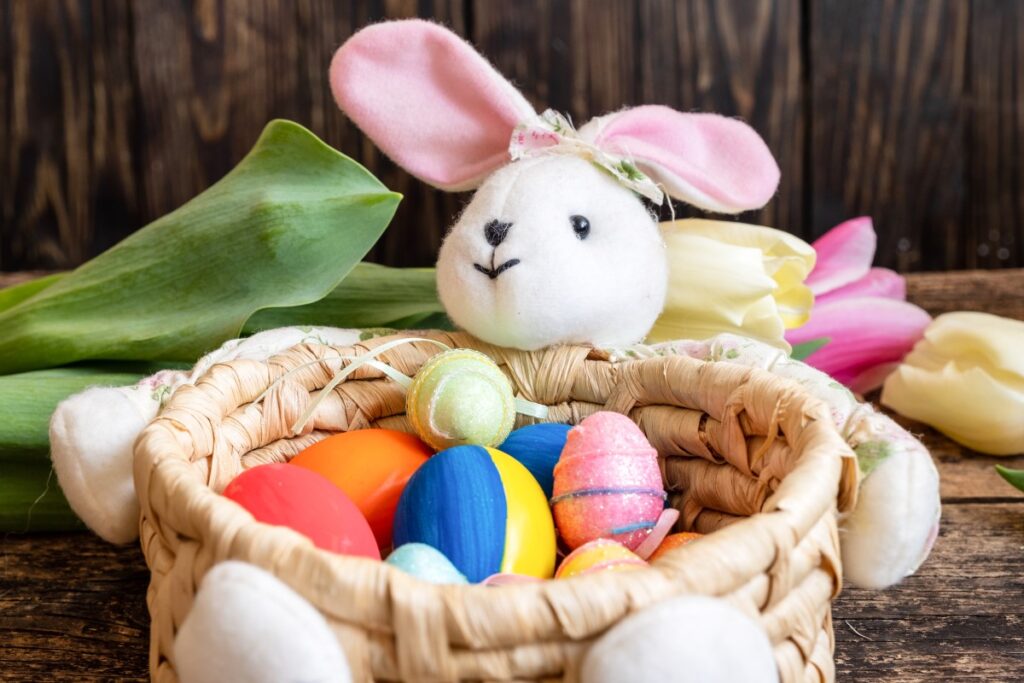 Easter, Passover, Ramadan: Celebrations and special foods.
During this time of year, the Lunar cycle determines several major religious and cultural celebrations, across the globe. This is no exception in Australia, where Easter, Passover, and Ramadan, are widely celebrated in the month of April.
These events and celebrations enrich our society, as well as our children's sense of belonging to the great global family. They also coincide with a seasonal change, as Summer turns to Autumn. They are all events of commemoration and celebration, enjoyed by families and friends. 
Easter
The Christian observance of Lent and the celebration of Easter, commences with a 6-week Lenten period of fast and abstinence on Ash Wednesday. This year, Ash Wednesday was on the 2nd of March, leading the Lenten period right up to the 17th of April, Easter Sunday.
During Easter celebrations, eggs are considered a special food because they symbolise rebirth and new life. The giving of chocolate eggs began to cater to those with a sweet tooth and became very popular during this celebration.
Passover
The Jewish Celebration of Passover, also called Pesach, is a 7-day festival which begins on the first full moon? in the month of Nissan, following the Hebrew calendar. This year, the celebration began with a Seder meal on Friday evening, 15th of April, and ended at sunset, on Friday, the 22nd of April. Passover commemorates the exodus of Jewish people from Egypt. 
For Jewish people, Matzo ball soup is a special Passover meal because it is a cultural symbol and reminder of their past hardships and the unleavened bread that sustained them as they fled Egypt. Matzo ball soup is a hearty chicken soup with dumplings made up of matzah meal (crushed unleavened bread), eggs, and chicken fat.
Ramadan
The Islamic holy month of Ramadan is observed by Muslims as a month-long practice of fasting, prayer, reflection, and community. Every year, Ramadan occurs 11 days earlier than the year before.  As the Islamic calendar is Lunar, each month begins with a new astronomical moon. This Ramadan began on the 1st of April and will continue till the 1st of May. The month culminates with the celebration of Eid al-Fitr, which marks the end of the fasting month. Ramadan is the commemoration of the prophet Mohammed's first revelation.
For Ramadan and Eid al-Fitr, Muslims tend to enjoy dates, fruit, soup, eggs, plus lots of sweet treats. While dates are meant to nourish the body after a day of fasting, the other sweet titbits simply follow the prophet Mohammed's way of life, which was to consume the sweet goods first before eating the rest of the food.
While all the symbolic foods that come with these celebrations are worth indulging in, moderation is key to balance and harmony.
Celebrating Cultural Differences – How Your Children Can Benefit from This
In early childhood, it is important for parents to support their children to develop their understanding, respect, and appreciation of cultural differences. Learning about various celebrations is a good way to help your children embrace diversity and develop a sense of community. Attending festivals and events can also help the learning experience 'come to life' for children, making it more meaningful, memorable, and more fun.
Through religious festivals like these, children can also form a better understanding of how people from different backgrounds pray, their beliefs and the cultural elements that are unique to different religions.
Observing different festivities often piques a child's curiosity, making it the perfect opportunity to nurture their awareness of, and respect towards, various religions and cultures.
The dates of these three major religious and cultural celebrations are decided by the phases of the moon and the rhythms and cycles of our planet. Encouraging your children to observe and plot the different moon phases, is one exciting and engaging way to teach them about these celebrations.
Here are some other activities that you can engage in with your children, to help develop their  appreciation of cultural diversity:  
Attend cultural events
Do cultural research together – create mind maps, make a greeting card, get crafty!
Try different kinds of food
Visit temples, churches, synagogues
Explore diverse entertainment
Vacations and holidays
We hope this article gave you some insight to the different cultural celebrations that took place within our community this month, and why it is important for children to learn about them. It helps to foster respect and open-mindedness to other cultures, so we can all celebrate our differences and backgrounds.
References: